Anklets are also known as ankle chains which are increasingly getting these days. Even the ultra-modern college teens have interests in wearing anklets pairing with casual dresses. Some ladies even wear them on a single leg. These are called single anklets. Anklets are available in different materials and designs like beaded, barefoot, silver, gold and many. One of the most popular designs among all is black anklets. These are actually a black oxidized metal that perfectly adorn your foot and enhances the beauty of every woman.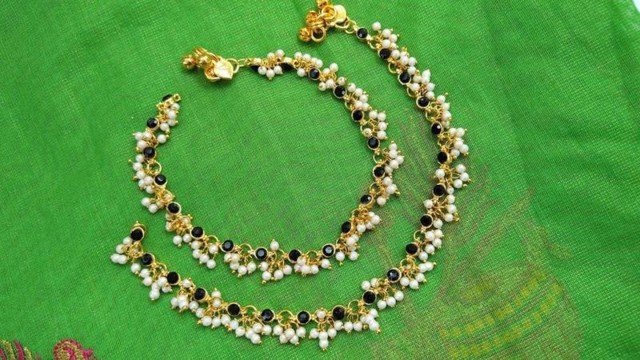 The specialty of black anklets
Yes, it's true that oxidized or black anklets have gained massive popularity. The reason behind this is black anklets are unique, versatile and cost effective when compared to other metals like gold and silver. The best part is, oxidized anklet designs come in myriad patterns with delicate carving, exceptional stone works and great enameling. These jewelry pieces add charm and appeal to your feet. Oxidized anklets also create an astonishing light and shadow effect dashing color combination. Apart from anklets, the world of oxidized jewelry pieces offers a novel and fresh look to the adornments.
Types of black anklet designs
Black or oxidized anklets are the perfect symbol of charm, good luck, inspiration, love, protection and freedom. Here are some of the popular anklet designs which are mostly available in the market.
Handmade cloth anklet: These designs are a combination of cloth and metal and thus, offer a unique design. They usually come with a mesh material and floral design beautifully entangled with a metal chain with a black pearl attached at the end. These anklets can be worn for daily uses without considering the chances of wearing off.
Jet black crystal anklet: Crystal anklets are one of the trendiest these days which offer a simple perspective to your personality. The string is made of several black beads all decorated with silver locks in the shape of a sphere. Jet black anklets have a crystal at the end. These are usually worn to get protection from the evil eye.
Beach anklet: From the name itself, you can understand that these are made keeping the beach waves and holidaying season in mind. These black anklets are made of black bead strand with a leather wheel. The leather ring is often said as a wheel of good fortune. Therefore, these black anklets can be the perfect gift for wishing good luck.
Black butterfly anklet: If you want a bit sexier look then these anklets are perfect for the purpose. The band of the anklet is made of black velvet and to increase the beauty a butterfly is added, which is attached with a red ribbon. The anklets are the best for parties, dates and can be paired with skirts.
Gypsy anklets: Gypsy anklets are quite different from others. These types of anklets are much popular among teens who like to go for parties and discos. This design is made of vintage styled lace with crystal beads. These designs of anklets can be paired with skirts and short capris.